A successful business should have strategic vendor management. This is important! When the vendor management is well-executed, it will control the vendor's performance evaluation, relationship management, contracts, turnaround times, and sourcing and research. Due to its complexity, vendor management requires experience, resources, skills, and time.
What is Vendor Management?
Vendor management is the process utilized by organizations and businesses to manage their vendors (supplies). These processes include negotiating contracts, guaranteeing service delivery, reducing vendor-related risks, finding vendors, and controlling costs. The nature of an organization will determine the vendor a business uses.
Vendors are different in size, from giant corporations to sole traders. They are also diverse and may include social media influencers, marketing consultants, stationery suppliers, cleaning staff, IT vendors, and vegetable supplies. Having a management program for your vendors will make it easy for you to achieve your strategic goals.
What is the Vendor Management Process?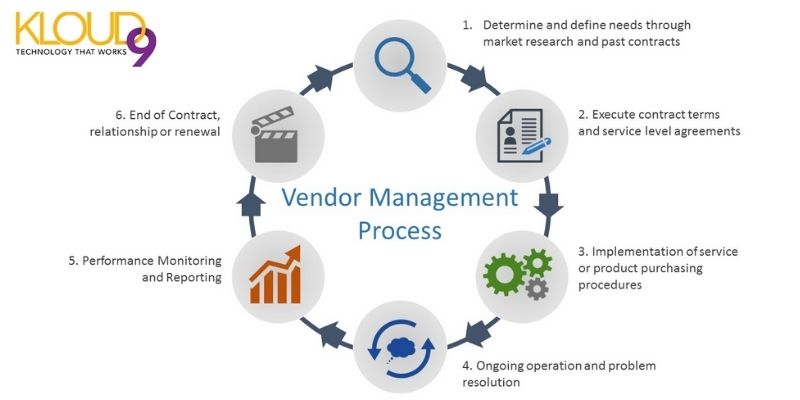 Your vendor management needs to be effective. Achieving this is a process that comes in stages. The organization must plan and execute the process to direct them on how to engage with vendors. The stages that it entails include:
Vendor sourcing:
This is the stage of selecting a vendor. It is achieved by inquiring and sourcing the right vendors to supply your organization. Once the prospective vendors are identified, they should be asked for quotes through Requests for Proposal' (RFPs) and 'Requests for Quotation' (RFQs). All important factors in the selection process should also be evaluated.
Contract negotiation:
Before the commencement of the vendor management process, contracts should be finalized. The contract must also be beneficial to both parties involved. The negotiation process usually consumes time; conditions, terms, and agreements should be included from the start.
Vendor onboarding:
The onboarding of vendors involves documentation and information gathering. This is required for the set-up of a vendor as the accredited supplier for your business. In the process, ensure that the vendors can be paid fully for all goods and services they provide.
Risk management:
Do a thorough check of a new vendor to detect any risk that may affect your organization. Some of these risks may be lawsuits, compliance breaches, loss of intellectual property, and issues with data security. As an organization, you should have contingency plans should the vendor fail to deliver.
Tracking vendor's performance:
The organization must monitor the performance of every employed vendor during the vendor management process. The monitoring should include their customer service levels, volume and quality of goods or service, and timekeeping skills.
Payment:
This is the final stage of the vendor management process. Your organization must ensure that the vendor is paid for their goods and services as at when due. The payment should be made in line with that which is on the terms of the agreement.
What Are the Benefits of Vendor Management?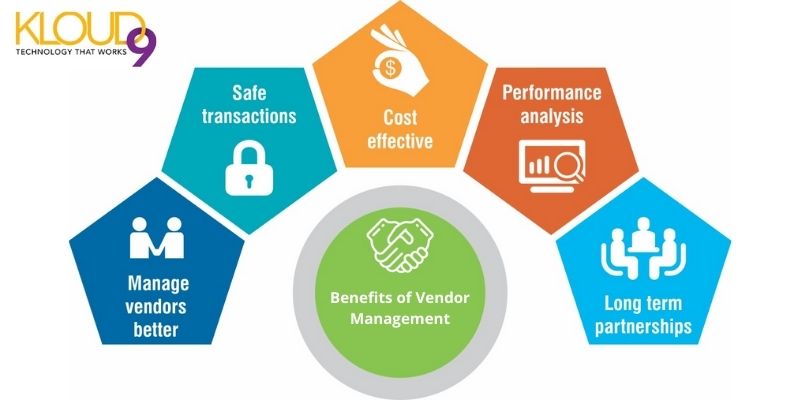 Vendor management plays an important role in choosing the vendors that best complement and make your business activities more efficient. Having the right vendor to supply your business goods and services can help improve customer satisfaction levels, save time, and increase profits. Here are other benefits that its implementation will have on your organization:
Better selection
It is important to have for your organization to have suitable vendor management in place. Implementing it will offer your organization a larger pool for selection, giving you more choice which will result in saving costs.
Better contract management
Contract management may become a problem in the case where you have multiple vendors. However, having a vendor management system will allow you to easily manage the documentation, contracts, and other vital information in your company.
Improved performance management
Implementing a management system will give you an integrated view when monitoring the performance of multiple vendors. Through this, you will know what is working right and what is not. Ultimately, it will lead to better and improved performance.
Better value
Getting the best value for your money is the primary aim of having a vendor management system. When its implementation is properly done, it can result in long-term savings and improved profits over time.
Improved vendor relationships
Managing multiple vendors at the same time is not easy. However, managing your relationship with them is important for completing a project successfully. Having the information related to all vendors will help your decision-making, resulting in a better vendor relationship.
Vendor Management Strategies to Get Better Result for Organization
As an organization, you must keep looking for new ways to improve the result of your business. Having a vendor management system in place and knowing their benefits is not enough. Therefore, here are some strategies to help you get better results:
Communicate regularly
Frequently sharing information and your priorities is key to the success of a vendor management system. Communicating regularly will make sure that there is a mutual understanding between both parties.
Convey your expectations clearly
As you engage with vendors, always clearly state the goals and expectations of your business. Doing so will make the vendor understand the objectives of your organization. It will also reduce any risk and issue of vendor compliance and performance.
Build long-term relationship
As an organization, make building a long-term relationship with vendors a priority. Frequently changing vendors to save money will affect the quality of your business and cost you more in the long run.
Understand the business of your vendor
Just as you are, the vendor you chose wants to make profits. Do not go about trying to cut costs when dealing with your vendor, as it may affect the quality of goods and services. You should contribute to resources that will make your vendor serve you better.
Assess vendor risks
This is one of the most important strategies, which will ensure that your vendor delivers on what is expected. Assessing the risk of vendor management begins with you recognizing the need and ongoing. Understanding the risks involved will ensure that they are minimized.
Conclusion
To avoid any disruption in the chain of supply, you must manage your vendors effectively. Effective management will ensure the timely delivery of goods and services. Also, organizations with effective management processes can build a strong connection with their vendors, resulting in negotiable rates.