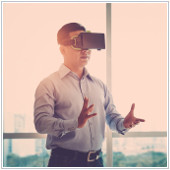 Most people tend to think that the concept of virtual reality has a place with The Jetsons family, but not so much at the office -- think again. Recently, more and more businesses are exploring ways they can mesh virtual reality with daily business operations to possibly help benefit customer service and even employee satisfaction. Take your business to the next level by embracing three dimensions instead of two. Here's why:
Create your own virtual product prototypes
With the help of virtual reality, you'll no longer have to rely on manufacturing when you want to see what your product physically looks like and how it might work. These virtual products allow you to make any changes before going through with production. According to Abi Mandelbaum, CEO and co-founder of YouVisit, "Model creation in VR, for example, can save companies time and money, as these types of models or prototypes allow viewers to examine a product and make changes without the time or expense of building a physical model."
Virtual designs for engineers
Especially beneficial for engineers, architects and other professionals that work with building or engineering large structures, virtual reality helps save both time and money. As an alternative to small models or 2D renderings, VR offers a more immersive experience that helps design and replicate structures.
Virtual tours
Let's say that you're a real estate agent showing houses to potential buyers. Your buyers might be in a different state or simply don't want to spend time going from house-to-house. Virtual reality allows customers to see what the home looks likes in a three-dimensional setting without them having to actually be there.
Showing all the angles of a product
In order to entice buyers into making a purchase, they must first get an idea as to what it's actually like, and they need to see as many angles as possible -- especially for products that customers don't get to physically touch. With virtual reality, customers are given a better idea of what your product is like. Abi Mandelbaum says that "Virtual reality can allow current and potential customers to explore a product before they commit to making a purchase. Furthermore, VR completely immerses customers, helping place a product directly into their (virtual) hands or empowering viewers to see a product in action."
Take customers on an adventure
If you are in any tourism or adventure-based business, you can use virtual reality to give customers a taste of what to expect from the attractions. Imagine that you have an amusement park and want to attract customers' attention. You can opt to offer a short VR replication of one of your rides so people can see whether or not they'd like it. Or if you own a resort or campground, you'll also be able to create reality versions of whatever activities you offer.
VR has the potential to take your small- and medium-sized business to the next level if done properly of course. If you have any questions about how you can mesh virtual reality with your company, don't hesitate to send us an email or give us a call. We'll be more than happy to assist with your queries.
Published with permission from TechAdvisory.org.
Source.