There are many remote desktop software solutions that you can choose for your computer service. Remote desktop software is a tool that is necessary for managing single or multiple systems by accessing another device.
You can enable remote access through the internet and any local network. This means that anyone can access any device they want wherever they are on the globe. Since many remote desktop software applications exist, the following are the most relevant for you to compare and pick the best.
What Are the Best Remote Desktop Software Solutions You Can Pick?
ISL Online
ISL is considered the overall best or top in the ranking of remote desktop solutions. It is easy for remote workers and customers to use this software solution as they have a less rigid pricing structure. They have the availability of unrestricted user licenses, and they operate on-premise and cloud-based functions. However, they might be too expensive for independent users and have complex remote printing.
ISL stands for Internet Service Layer, which came into existence in 2001. It is a remote software solution that provides desktop support in about 100 countries, making it the most highly rated software in review. With ISL applications, users can seamlessly access any device or IOS, Android, Windows mobile phone, Linux computer, or Mac device.
IT service technicians can cooperate with clients in real time, using a fast screen-sharing network to remotely reboot devices, transfer files, and install updated software applications. Customers can use internet service layers to offer functional access to their mobile devices or computer through mobile applications, live chats, or websites with a single click.
TeamViewer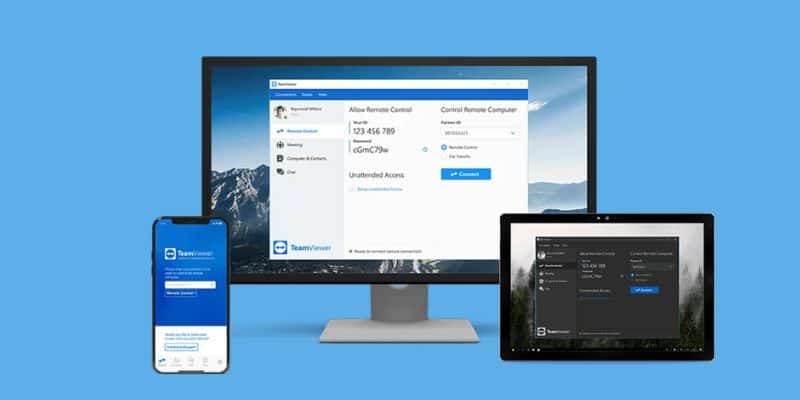 Team viewer is an influential support desk or remote access solution that permits remote entry into and out of a computer service, network support machines, mobile devices, and others. It is a renowned desktop solution that boasts more than 2.5 billion devices linked to it. This means that the team viewer can host about 45 million users simultaneously.
Teamviewer has two variations that are accessible to individual users. However, organizations and other e-commerce users must improve their computer service and update it to a commercial business subscription plan. TeamViewer grants excellent cross-platform program execution, such as compatibility with IoT devices and remote mobile access.
LogMeIn
LogMeIn is one of the best help desk software for group and single users. Your team can avail of the affordable subscription that works well for individuals, depending on how many devices they access remotely. LogMeIn offers generous cloud storage, phone support around the clock, and a LastPass subscription provided at no charge.
Users can access up to 1TB of cloud storage even with a LastPass premium. However, they are expensive for businesses and often have sync problems between personal computers and Macs. LogMeIn has been around since 2003, and they are the pioneer of SaaS or Software as a Service, a company that grants multiple cloud-based services to about 2 million users around the globe.
LogMeIn offers users all kinds of remote desktop services as they would anticipate if they used other help desks, such as remote access from Mac computer service, personal computers, and mobile phones. For unrestricted users, they offer a drag-and-drop transfer of files, screen sharing, remote printing, multi-monitor views, and more.
In addition, LogMeIn offers a less expensive and easy-to-navigate remote desktop software service and management that grants access to password management and online storage. This function makes it the best remote desktop solution for teams and individual users.
RemotePC
Remote PCs remain top of the list for large companies. This is because they offer a growing workforce with remote chats, scalable pricing, and management sharing that supports seamless cooperation between IT support technicians and customers. They are easy-to-use, more affordable solutions than many other remote desktop services.
They offer phone support and live chats around the clock but can be slow when adding fresh users. They might also restrict some features on their browser app. RemotePC came into existence in 1995, and they are among the products manufactured by IDrive Inc. They grant users access to store information in the cloud, access remote desktop solutions, and carry out online backups.
With a RemotePC, users can gain easy entry accessibility into an available computer, from Mac, personal computers, IOS, Linux computers, and Android devices, by utilizing a safe AES-256 encryption without necessarily downloading any specific software. Users can use RemotePC solutions to drag and drop files while sharing, print documents, listen to audio, carry out live chats, and cooperate using a shared whiteboard.
Zoho Assist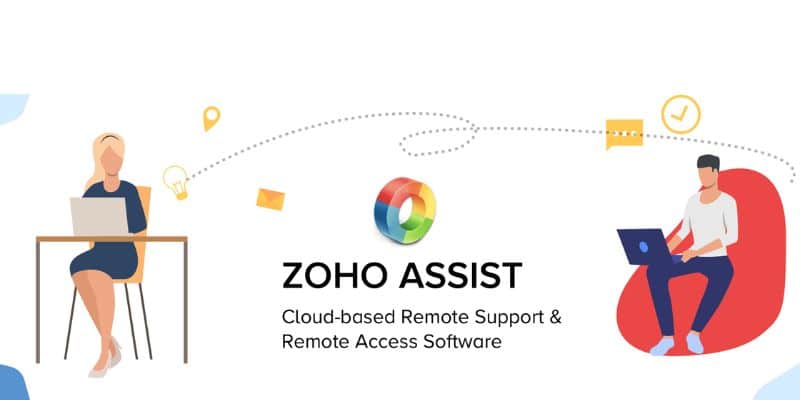 When considering a remote desktop solution with the best value, the best pick should be Zoho Assist. Depending on their needs, it offers various affordable subscriptions for businesses and single users. They also grant a complimentary plan which enables users to have effective and easy remote management.
Zoho Assist offers a pay-as-you-go plan with white-labeling possibilities, but their complimentary plan might be limited while most of the plans need features. Only about 25 computer devices can access their top plan. But they still feature expensive plans for affordable rates, and their review is excellent.
This top remote desktop software solution segments itself into two layers of subscription. It has a remote support desk plan appropriate for IT support teams, including a single internal technician, several screen navigation, file transfers, and about six sessions that operate simultaneously. On the other hand, it has a mid-and top-layer subscription that includes screen sharing, session recording, rebranding, mobile applications, remote printing, and more.
Conclusion
Many more remote desktop software solutions can make it to the top list for you to have better remote access using your device anywhere and any time you want. All remote desktop solutions, from LogMeIn to Zoho assist and RemotePC, are excellent. You can access any of these tools in the commercial market and decide which is best for your company.