With the rise in technology, network speed, and improved cost, many businesses have adopted Voice Over Internet Protocol (VoIP), breaking away from traditional phone systems. If you opt for VoIP, it is vital to know everything about it. From the monetary savings to its flawless integration into improving your business's IT services, you must ensure VoIP is secure and worth the hype.
What exactly is VoIP?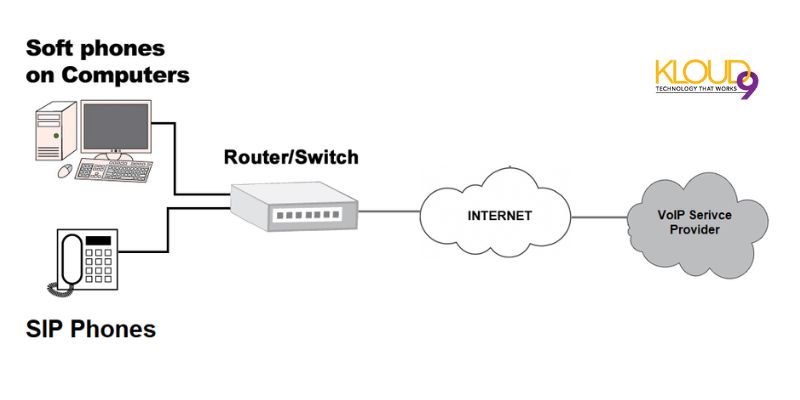 Voice over Internet Protocol is abbreviated as VoIP.It is a concept that allows you to use internet connections for voice calls instead of making calls through traditional or analog phone devices.
What are the various types of VoIP?
1. Integrated access or IAD
The VoIP phone system is similar to the regular phone system. However, you cannot say the same for hosted IP PBX. The operation time for Integrated Access is when the Voice over Internet Protocol system integrates the phone system of an existing business.
2. Hosted IP PBX
IP PBX is also a short name for Virtual Private Branch Exchange. PBX delivers as an IP-hosted service.
3. SIP trunks
Also referred to as the "Session Inata Network," the system makes it easy for users to explore the advantages of network distributions to elevate the quality of communication options in the business. For example, businesses might depend on the VoIP transiting phase to integrate SIP trunking with their legacy phone system.
4. Managed IP PBX
Managed IP PBX, like hosted IP PBX, is a unified communication system. However, this version is outsourced to an intermediary provider that manages business communication requirements and monitors ongoing.
Advantages of VoIP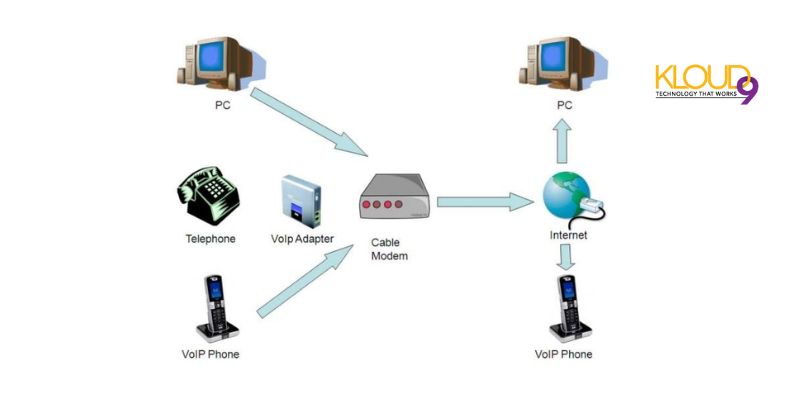 1. Seamless scalability
When the need for organizational modification arises, businesses also seek scalability. However, legacy phone systems could be more manageable in this aspect. You can use VoIP to seamlessly scale your phone lines and numbers without spending much money.
2. Stress-free installation
You can easily install a VoIP system, whether tech-savvy or not. You can use reliable dashboards and add up to five users to change things whenever you feel like it. With the VoIP system, the phone is up and running, and you don't need to try and adjust hardware devices because you can control your VoIP services stress-free and all by yourself using your mobile device.
3. Cost-effective services
Both customers and organizations have accepted that the VoIP advantage can reduce the cost of expenditures spent on sorting out phone bills. In addition, since VoIP does not require a phone system on-site for users to connect through calls, it becomes less stressful and allows businesses to save on IT services and phone systems costs.
4. High-quality sound
When you use Voice over Internet Protocol, the difference will be transparent regarding calling quality. Using VoIP is incomparable to using those regular phone systems where a person sounds muffled or fuzzy. Instead, it is relatively high-quality, as VoIP uses HD Audio Programming for phone installations. The programming helps produce high-quality sound over the phone.
Disadvantages of VoIP
There may be many advantages to using VoIP, as well as some concerns about how it may harm your business. The downsides of VoIP are mild, but it is best to understand that all technologies bring advantages and disadvantages to businesses.
Here are some concerns related to VoIP phone system management. You can take them seriously and find solutions that can work.
1. Using VoIP necessitates a high-speed internet connection
Using Voice over Internet Protocol systems will only work well if you have a good Internet connection. However, you can get a strong network as soon as you fix the connection issue or look for a reliable managed IT service provider during such times.
2. Increase in cyber insecurity
Cybercrime will keep multiplying all over the globe due to the vulnerability of many internet users. Therefore, businesses need to improve VoIP security. Malware problems, scam calls, phishing attacks, and several more network security attacks have become unending problems for many companies. Many believe that VoIP is the main reason for cyberattacks.
What are the primal features of voice over internet protocol?
Here are the prime VoIP features you should obtain if you want to invest in a Voice over Internet Protocol system:
1. Voicemail transcription feature
Voicemail transcription is a VoIP feature that can help you skim voicemails while you are doing something else or attending a meeting. Also known as voicemail-to-text, it carries extra efficiency, as you may only need to listen to some things.
2. Voicemail to email conversion feature
You must get features that convert voicemails to emails, as messages you did not listen to can be a turn-off. Therefore, you can use the features to get faster responses by automatically converting voicemails to inbox messages.
3. Improved call routing features
Your advanced VoIP routing features can direct all your incoming calls. Rerouting helps you place all calls depending on specific departments, types of customers, the agent's performance, and specific users.
4. Softphone feature
When investing in VoIP, get softphone features for easy calls. Do so for both sending and receiving calls on different devices. Therefore, you can use the VoIP softphone features to make calls on tablets, PCs, and mobile phones. You can also use Bluetooth headsets or any wired device to communicate efficiently.
5. Follow me and find me options
When you forget important business calls by leaving them unattended, it can influence your business integrity in the wrong way. With the "follow" or "find me" features, you can take business phone calls from any location using any external number and device.
6. Conference bridge feature
A conference bridge is a VoIP feature that allows you to invite multiple users to a call at once. With this feature, you can simultaneously transfer the same message to many people, thereby saving effort and time.
7. Parking call function
You can use the "parking call" VoID feature to park calls in the absence of your call attendee. With this feature, anyone in your workforce can click on the "shared parking" option using their desk phone and pick up a call directed from another phone at work.
Conclusion
There are so many things to know about Voice-Over-Internet Protocol. Through their benefits, your business can experience a turnaround in scalability, high-quality calls, and more. In addition, you can invest in features that enhance the VoIP benefits, such as softphones, call routing, and voicemail transcriptions.