Free Report
"The Ultimate Guide To Choosing
The RIGHT
VoIP
Phone System For
Your Small Business,
Call Center
Or Multi-Location Office"
Not all VoIP systems are created equal! Read this guide to discover
how to avoid making a frustrating, expensive mistake when choosing
a VoIP phone system.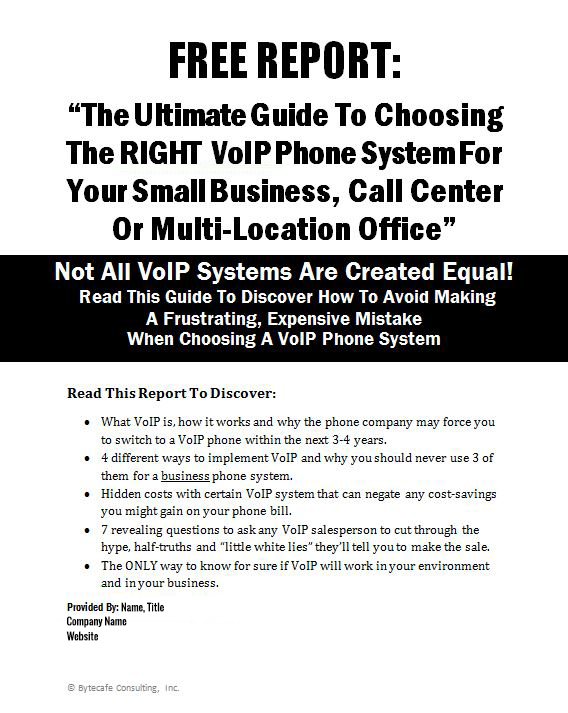 In This Report You'll Discover:
What VoIP is, how it works and why the phone company may force you to switch to a VoIP phone within the next 3-4 years.
4 different ways to implement VoIP and why you should never use 3 of them for a business phone system.
Hidden costs with certain VoIP system that can negate any cost-savings you might gain on your phone bill.
7 revealing questions to ask any VoIP salesperson to cut through the hype, half-truths and "little white lies" they'll tell you to make the sale.
The ONLY way to know for sure if VoIP will work in your environment and in your business.
To Download Your Free Copy Today,
Simply Fill Out The Form on This Page.
Fill in the Form
To Gain INSTANT Access To This Report

When IT issues are reported to Kloud9 they are followed up on and resolved as soon as possible. Communication is always clear. Patience with "operator errors" is never an issue. No one is ever made to feel bad about making a call for help. I would highly recommend working with Kloud9. We have had nothing but great support and service from them for many years.
Paula S. Knodel
General Title Insurance Company
Support works quickly to identify and resolve issues remotely without the need for onsite support. Have a stable Cloud environment that allows us to work remotely anywhere with consistent results while eliminating the need for us to purchase hardware/software and worry about maintaining any updates as everything is constantly updated for you. You should give Kloud9 a try. Overall, the Cloud services offered will allow you to focus on working within your firm's environment with the peace of mind that having an onsite server can't provide.
Kevin Herring
CPA